About Mecha Solar – Renewable Energy
Mecha Solar Egypt is a renewable energy project developer Company that specializes in solar energy deployment.
We identify, develop, and finances viable renewable energy projects.
Mecha Solar Egypt only uses proven technologies from trusted suppliers and manufacturers and only hires internationally recognized and respected contractors.
Develop and improve the quality of energy and power usage in the Arab region

Abdelrahman Mahran
Renewable Energy Events
KAKO Training – Sonesta Hotel Cairo
KACO new energy training held in Cairo is the first of its kind for a multinational PV inverters manufacturer to give a one-day training for their customers in Egypt.
The event was organized by ENERSYSCOM in collaboration with Solar Energy Development Association SEDA and under the patronage of the National Renewable Energy Association NREA. Enersyscom CEO, Mohamed Fahmy extended his welcome speech to the guests, and launching the event was given to Khaled Gasser, the SEDA CEO.
Distinguishable attendees from the EPC companies and NREA technical team were present, the Senior KACO products trainer Helmout Soldan discussed the following topics in the later hours:
-Introduction to the On-grid inverters technology.
-Difference between the String inverters and Central inverters: categories and when to use.
-KACO new energy Products Overview.
The event aimed to introduce the latest German technologies of KACO in the solar string and central inverters to the EPC companies in order to increase the awareness of the significant need for renewable energy for a more pure environment and to add the quality factor to these sustainable projects.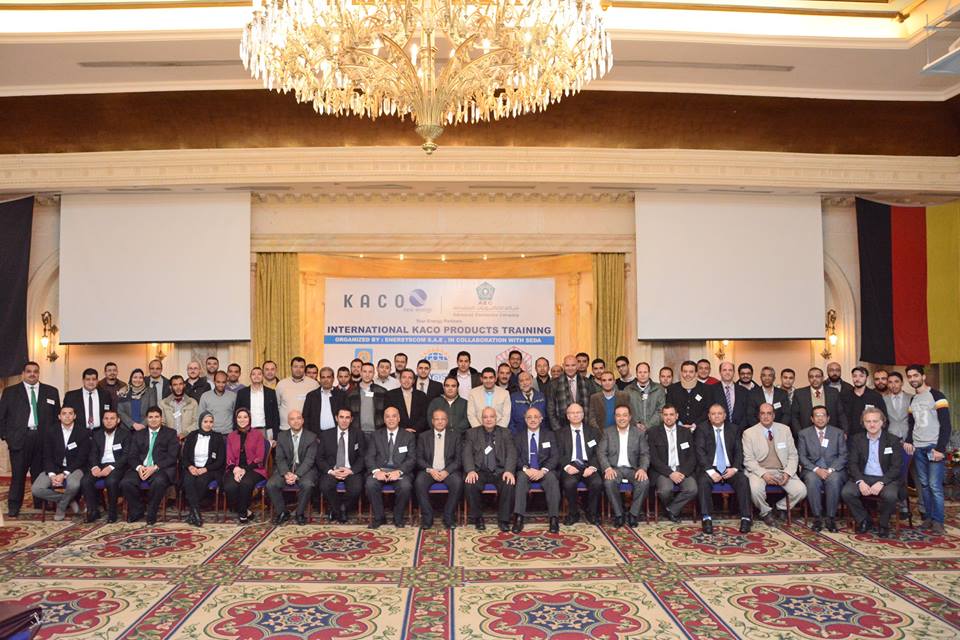 Source: Blogspot Post – Energy Systems Components – YouTube – Facebook Gallery
Middle East Rooftop Solar Congress 2021
The biggest Rooftop solar conference focusing in the Middle East region with a gathering of 150+ top professionals from the solar rooftop industry defining the latest industry needs, thus making Rooftop Solar Congress not only long-running but also the biggest Rooftop solar conference out there.
Online Event
Source: Event YouTube Video Start at 1:40
News & Media
Egyptian Tech Startups – Renewable Energy
Source: "Egyptian Tech Start-ups"
Top 100 Energy Startups WorldWide
Mecha Solar has been listed among the top 100 energy Startups worldwide. Sep 2020
Source: "Energy Startups"
Top 20 Energy Producers in Egypt
In the world of sustainable development, Egypt has been a frontrunner at making use of the one source of energy we have an endless supply of. As of late, a hoard of Egyptian solar energy companies has been taking over the sustainable energy production market. So much so, that Egypt has built the biggest solar park in the world in Benban, Aswan to provide them with the space to produce renewable energy. Amidst that shining crowd, we've picked some of the best in the business to share with you on Egypt's very first National Environment Day.
Source: Cairo Scene